Alumni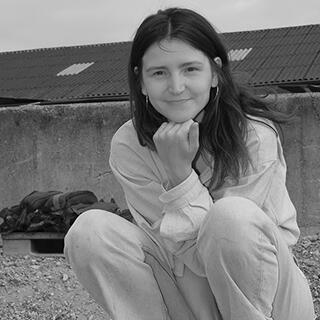 Mascha Albl
BA Film | Creative Producing
Producer (a. o. HEAVEN WITHOUT EARTH)
Vita
MASCHA ALBL born 1993 in Cologne | 2013 Abitur | 2014 Summer Session at UCLA "Film Art & Techniques / Film & Television Directing" | 2014 Directing Internship on "Frau Müller muss weg" by Sönke Wortmann | 2015 Directing Internship on "Nebel im August" by Kai Wessel | 2016 Production Internship at Prettybird Production, London | 2017 Production secretary on "Pettersson and Findus 3" | 2017-2021 BA Film "Creative Producing" at ifs | Since ifs studies working as a producer duo with Franziska Wieden | 2018 Founding of Tiny Tits Productions - music videos for Cologne indie bands | 2021 Founding of Not Your Baby Productions - film production for film and series
ifs Projects
Production & Directing
DER BÄR
2018 | Feature Film | 15 min.
Further Projects
Production
XUL ZOLAR: NIGHTFALLS
2019 | Music Video | 5 min.
GIIRL: MAYBE THE PROBLEM IS YOU
2018 | Music Video | 5 min.
Production Management
GIIRL: DRUGS
Music Video | 5 min.
AD PA
BABYLON BERLIN
2019 | Series | 45-50 min. per episode
3rd Ad Crowd
PHANTASIALAND - ROOKBURGH (AT)
2020 | Image Film
2. Assistant Director
STARNBERG DIGGS
2015 | Pilot
Growing up with climate change in the fast-paced era of social media and the still ongoing struggle for equality, I want to make films that address diversity and otherness and integrate them as a matter of course. Cinema has the power to unite people all over the world and to overcome differences and barriers. That's why it's important to me to address current issues and grievances and hold a mirror up to our society. I aspire to a future as a producer, with the goal of telling the world from a new, female perspective through the diverse narrative possibilities of our time and making film sets a more female-friendly and sustainable place.