Master Digital Narratives
Our society is becoming more and more digital – including storytelling and production techniques. In the Master's Programme Digital Narratives, media and culture creators gain the necessary tools in theory and practice for a professional career in a field that is constantly changing due to rapid technological developments.
The program's goal is the training of creative storytellers that master the narrative formats and production techniques of new digital media and experiment with them, in order to develop innovative formats. The programme combines academic and practical work and teaches students to question the possibilities and limitations of digital technologies as well as the examination of current social issues.
Key areas:
dramaturgy and design of digital narratives, with a focus on immersive technologies
current theoretical debates and critical discourses in media studies and cultural studies
creative development and agile production methods
storytelling projects for digital formats and platforms (e. g. XR, web series, apps, interactive graphic novels, immersive installations)
social debates and the storytellers' responsibilities
The Master's Programme also prepares students for a practice- or art-oriented doctoral studies program.
STORYTELLING FOR THE DIGITAL SOCIETY
The Master's Program Digital Narratives supports young creatives to develop their artistic, practical, and theoretical skills as well as their own artistic position within digital culture in a collaborative and international environment. The program provides a protected space where students learn to experiment, and to think and produce digital narratives.
The central elements of the curriculum for the Master's Program Digital Narratives are:
Digital culture: Critically analyze and explore media ecosystems ─ as spaces where debates about gender, diversity, social justice, ecology, and colonial history take place ─ and the new possibilities that digital technologies offer for rethinking these structures. Examination of the social responsibility of art and media in digital societies.
 
Narrative: Research and development of immersive narratives based on new technologies and strategies for engaging audiences in digital media.
 
Study and practice of creative methods: Analysis and training of creative and agile methods for ideation, development, prototyping, and production of artistic projects and creative enterprises in an interdisciplinary and collaborative work environment.
 
Project conceptualization and development: Throughout the program, students conceptualize, design, and develop a digital storytelling project. During the first three semesters, they focus on conceptualizing, researching, and prototyping their ideas.
 
Combined Master Project and Master Thesis: In the 4th semester, their project becomes part of their master's thesis, with students splitting the project and the written thesis in a ratio of 80% to 20%, or vice versa. Their work will be supervised and guided by professors, tutors and the Digital Narratives and Production department.
 
Project support: To realize their master's projects, students have access to the technical equipment at ifs, support from the production department and receive financial support (max. 4,000 euros/student) for their project.
Applicants who want to explore media and new digital technologies and narratives both practically and theoretically, from fields such as storytelling, film, games, journalism, etc.
Applicants must have a BA or equivalent or higher degree and at least one year of specialized work experience or similar professional project experience. In justified exceptional cases, applicants with exceptional artistic talent who lack one or more of these formal requirements may apply to participate in this program as professional training participants.
Graduates have the opportunity to develop their careers in the creative industries, academia, or a combination of both.
If they choose to continue their academic career with doctoral studies after the program, they will be well prepared to do so in areas such as media and art studies, cultural studies, game studies, narratology, and digital culture. They are qualified to apply a research-creative or artistic-research approach.
In addition, graduates pursue the development of their own digital narrative projects in a variety of narrative formats and platforms, including XR, VR, AR, interactive web series, games, innovative journalism, interactive and digital documentaries, immersive and non-linear narrative formats and narrative worlds.
Our graduates are creatives who understand the ever-evolving language of digital media. They are people who actively shape the industry and engage in discussions around digitality, and they are involved in projects with strong social and ethical aspirations.
They can work in leading creative and artistic positions. Possible career fields for graduates of the Master's Program Digital Narratives are:
creative director / creative producer
storyworld designer / story editor / content designer / narrative designer
UX designer
media artist
media designer / doctoral student
curator / media critic
documentary filmmaker and/or journalist with a focus on digital storytelling formats
The media location North Rhine-Westphalia is one of the most innovative and economically potent metropolitan regions in Europe.
The city of Cologne not only has a 2000-year history, but has long since established itself as one of the most vibrant media hotspots in Germany. One third of Germany's television programmes are produced in Cologne. Major TV and radio stations, numerous renowned film, TV and web production companies, studios, publishing houses and creative agencies are based in the city and attract an innovative and artistic audience. In addition, a large and growing number of exciting international productions are being made in Cologne and NRW.
The ifs is located in the creative and media quarter Schanzenstraße in Cologne-Mülheim - in close proximity to TV production companies, studios, publishing houses, a radio station and the Schauspiel Köln theatre.
The 4-semester full-time Master's Program is modularized and is composed of:
PROJECT MODULES
Including the master's project, students go through four project phases during the course of the program, each with a different focus in terms of content and building on each other in terms of complexity. In these, ideas are found for projects, which are developed and produced.

MODULES DIGITALITY AND CHANGE
The modules Digitality and Change deal with the (media) theoretical and aesthetic foundations of digital narratives and critically engage with social and political implications of digital narratives.

MODULES NARRATIVES
The modules Narratives deal with dramaturgy, storytelling, and worldbuilding as narrative foundations of immersive, digital narratives.

MODULES METHODS
The modules Methods teach students the creative and technological skills to find, technically realize, and place projects in the marketplace.
SEMESTER 1
Digitality and Change 1:
Analysis and aesthetics of digital media, media theory
Narratives 1:
Storytelling and dramaturgy in digital media; audience-centered design strategies and formats; "Human Machine Interface"
Methods 1:
User experience design, collaborative and agile ways of working; creative writing for digital media; introduction to coding and overview of currently used softwares
Project 1:
Ideation: developing concepts for own projects with support from instructors and mentors, comparison with similar projects; presentation and discussion of the ideas
SEMESTER 2
Digitality and Change 2:
Connectivity, access, infrastructure, and network structures as core aspects of global online media; loop structures as a basic element of digitality; critical analysis of new forms of digital production and distribution.
Narratives 2:
Case studies of dramaturgical approaches and strategies in various industries; narrative system, transmedia storytelling, story worldbuilding; narrative and technical aspects of immersive technologies
Methods 2:
In-depth exercises in user experience design and creative writing for digital media; technologies for creating immersive storytelling experiences; project management tools and budgeting
Project 2:
Development: conceptual challenges (dramaturgy, narration, interaction, platform strategies, visual design, choice of technology), market research and funding options; artistic and technological definition of one's own project
SEMESTER 3
Digitality and Change 3:
Social and political issues and disputes about digitality; immersion as part of digital narratives.
Narratives and Methods 3:
Theoretical and practical perspectives on immersion; management and communication skills
Project 3:
Production: project production processes; legal aspects and market communication, including influencing and social media; integration of market aspects such as distribution, evaluation, and copywrights into the development phase
SEMESTER 4
master's thesis, master project and colloquium
The Master's Program Digital Narratives is a four-semester full-time master's program with 120 ECTS. The program is offered in a blended learning format with face-to-face and online time. The language of instruction is English.
LECTURE TIMES PER SEMESTER:
1st semester: 12 weeks (6 weeks face-to-face / 6 weeks online)
2nd semester: 12 weeks (6 weeks face-to-face / 6 weeks online)
3rd semester: 8 weeks (4 weeks face-to-face / 4 weeks online)
4th semester: 3 weeks (2 weeks face-to-face / 1 weeks online)
In addition, there are phases of self-study.
After successful completion of the master's examination, students are awarded with the academic degree "Master of Arts" (M. A.).
Each module is completed with one or more examinations. These may be term papers, oral examinations, presentations, documentations or works samples.  
At the end of the program, the master's thesis and a final work sample (Master Project) are prepared and supplemented by an oral examination (colloqium).
The work sample is an individually or collaboratively created prototype of a digital narrative. The master's thesis flanks the Master Project and reflects on the project from a (media) theoretical perspective.
In the colloquium, aspects of the project work and the theses of the master's theses are discussed in the form of a professional discussion.
The MA Digital Narratives at ifs is a unique holistic study experience. I was happy to encounter an international environment where both academic and practical approaches are tuned in to bring out the best of each attendee. Every student is encouraged to develop a project or prototype on any digital medium, without defined creative boundaries, while being fully supported by all ifs staff, technical crew and professors.
When a film school values digital storytelling tools and elevates them onto a throne to be bigger in the future and set up today's storytellers properly for the next decades, the result is the Master's Program Digital Narratives. And I'm incredibly happy to be able to contribute a little bit to that.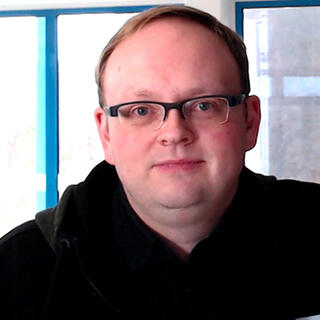 MA Digital Narratives is a creative and research program that provides its students with high design tools and production methods, coupled with a solid analytical approach towards the digital medium. For me, coming from both cultural studies and independent cinema, the master managed to profoundly intertwine my artistic and intellectual interests. At a creative level, it has greatly improved my production skills, as well as training me with a whole set of transmedia forms in which to render my new ideas. On a more theoretical aspect, it has also granted me a plethora of research tools for a quality academic approach to cultural cybernetics. For all these reasons, I feel incredibly indebted to the program, and I hope it will continue enlighten new cohorts into the prospects of the digital medium.
In a world where art is experienced on a daily basis, the MA digital narratives program at the ifs brings clarity to the concept of creative development. When I started, I thought I knew what art was and how to create it digitally, but once we went in depth into our program I realized that it's so much more than what we think. It's a process of ideating, creating, prototyping, expanding, reflecting and producing. It's a circle of thoughts that brings you closer to your creative goal. I am grateful that I got to have hands-on experiences with a lot of different projects at the ifs, as I learned how to trust my ideas, go further with them and make them come to life. One of the main aspects of the program is the interlink between theory and practice. This allowed my classmates and myself to focus on both creative and analytical approaches to our thesis projects.
Within the MA Digital Narratives program, we had the pleasure to work together with the students on 'Creative Technologies and Tools' with the focus on Virtual Reality conceptualization and development with Unity. The international group of students with extraordinary and different backgrounds astonished us immensely with their quick technical grasp, as well as the highly creative and promising Virtual Reality prototypes. We enjoyed working with the students and ifs a lot!
The module handbook provides in-depth information on the curriculum.
The examination regulations provide a structural overview of the individual modules in the Master's degree programme.