news / News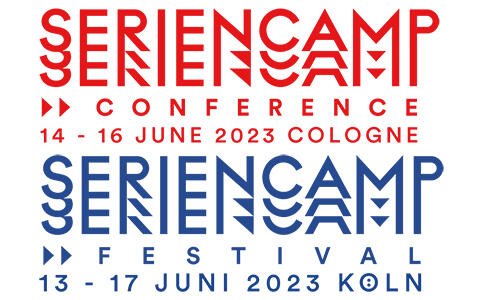 ifs @ Seriencamp 2023
ifs is represented with a series of events
The »Seriencamp" with festival and conference will take place in Cologne for the first time this year. From June 13 to 17, it will once again show a large selection of international series, including numerous German and world premieres, and will bring together creators and series fans.

THURSDAY, 06/15
On June 15 at 9.30 a.m. the third Think Tank of the European Showrunner Programme will take place in the context of the festival - on the topic »Showrunning in Europe – DIrecting in the Showrunner Model« at Kino Cinenova.
The differences between the position of directing in the showrunner model and the traditional role of directing will be discussed by Kaat Beels (director, writer, producer, »Tabula Rasa«, »The Clan«, »Hotel Beau Séjour«, Belgium), Nathalie Basteyns (director, writer, producer, »The Clan«, »Hotel Beau Séjour«, Belgium), Lutz Heineking (Director, Writer, Producer »Other Parents«, »Inside«, »We are the Meyers«, Germany) and Annetta Laufer (Director, Writer »Get Millie Black«, »Doctor Who«), moderated by Adrian Spring (Writer, Producer »Nr. 47«, »Neumatt«, Switzerland).
 
In the afternoon, ifs invites you to the Master's Pitches 2023 of the Master's Program Serial Storytelling from 4.15 to 5.45 p.m.: 15 freshly graduated students from 8 countries will present their Master's series projects as well as other projects created during their studies in various Writer's Rooms. Afterwards there will be a get-together in cooperation with Network Movie to exchange ideas with the young talents.
FRIDAY, 06/16
Finally, on June 16, the series camp, supported by Gaumont, will host a breakfast meeting for series students and alumni - including those from the ifs.
In the afternoon, from 2.45 to 3.45 p.m., ifs managing director Nadja Radojevic will be speaker at the workshop »Crewliebe«, dedicated to the criteria of a Fair Production Guide, initiated by KölnBusiness Wirtschaftsförderung.
During the festival, ifs Professor Joachim Friedmann will be a speaker at the panel »Storyworlds: Die Welt als Geschichte« at the Screenwriters Lounge on June 16 at 3:30 p.m. at btf GmbH.

Alumni of the ifs are also represented with their projects at screenings, pitches and on panels, among others at:
06/14 Docu-Series Pitch:
Graduate Eric Bitencourt (MA Serial Storytelling) pitches his project »Countries that Don't Exist«. Alumnus Johannes F. Sievert (BA Film) pitches his series »Against the Grain«. Alumna Christine Uschy Wernke (BA Film) pitches her series »Der Mantrailer - Im Namen Der Opfer«.
06/14 Co-Production Pitch:
The authors Jens Becker, Linda Brieda and Dominik Wessely pitch the series »Teufelskreis«, which will be directed by ifs graduate Markus Sehr. The pitch will be moderated by ifs student Marvin Meiendresch.
06/15 Writer's Vision Pitch:
Graduate Kai Kreuser (BA Film) pitches his series project »People Like Us.« Graduate Ljubica Lukovic (MA Serial Storytelling) pitches her series project »Unfortunate«. Simon Ruschmeyer (MA Serial Storytelling) pitches his series concept »Open Fire«. Alumni Helena Lucas (MA Serial Storytelling) and Marian Grönwoldt (BA Film) pitch their series »Invincible«, together with Tali Bardi and Julia Alina Kessel. Current students from MA Serial Storytelling Marvin Meiendresch, Lucas Gesser, Ilaria Fravolini and Nathan Luchina pitch their series project »Sounds from Nowhere«.
06/15 Panel: Empowered Through Fuck-Ups?
At the panel organized by ProQuote Film at 14:45 to 15:45, ifs alumna Su-Jin Song and ifs student Fitore Muzaqi, among others, talk about failures and setbacks in their careers and how these have contributed to where they are today.
06/15 Work in Progress II: Plan B
The showcase format »Work In Progress« takes a look at upcoming German TV series projects in various stages of production with, among others, ifs alumna Ingrid Kaltenegger at 3.45 pm. With exclusive first looks at upcoming projects from Amazon Prime Video, Disney+, ZDF, ZDFneo, ARD and Sky.
06/16 Workshop: Girls* get Shit Done
Experienced female filmmakers, including ifs student Fitore Muzaqi, will share their experiences with the audience and answer questions from 10:00 to 10:50 . This session is dedicated to female young professionals.
06/16 Panel: Your Crew is Your Capital
The film industry is also having increasing difficulty finding new talent.  From 12:30 p.m. to 1:30 p.m., the panel will explore, among other things with ifs alumna Marina Cardozo, the question of what ideal conditions can look like on set and how they can be created in modern working environments.
06/16 Screening: »Lu von Looser« (season 2, directed by Alice Gruia), 5:00 p.m.
As with the first season, many ifs alumni are again involved in the second season of the series: The ifs alumni: Thorsten Schönrade (DoP), Jessica Kaczmarek (production design), Christopher Albrodt (production management), Björn Grzemba (assistant director), Vlad Litvak (editing) and ifs student: Lena Tusche (production assistance).
06/17 Screening: »Der Greif« (Director: Max Zähle, Sebastian Marka), 5:30 p.m.
ifs alumnus Lucas Seeberger is one of the editors of Amazon Prime Video's series »Der Greif«. Alumnus Dominik Schmitt is a costume design assistant.